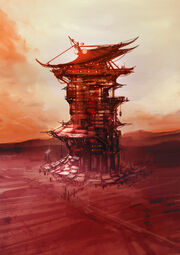 Wornspire is the name of the secret experimental facility where Talmage conducts medical experiments on captured people who are still able to reproduce. It is located near the Western edge of The Verges. It is also one of the most advanced structures in the known world, technologically.
The building is depicted on the cover of The Facility (subchapter) (image by Axel Torvenius.
Ad blocker interference detected!
Wikia is a free-to-use site that makes money from advertising. We have a modified experience for viewers using ad blockers

Wikia is not accessible if you've made further modifications. Remove the custom ad blocker rule(s) and the page will load as expected.