Praul
Vitals
Emblem
Government
Monarchy
Leadership
House Elund
Head of State Title
King
Head of State
Meris
Citizenry
Prauli
Capitol
The Rorhold, prev. Amberdal
Population
Largest City
Established
Allies
Rivals
Currency
Languages
Anderian, Canderian
Industry
Historical
Old Maps
Praul is a small country just south of the Atlicas. It is one of the oldest nations in Lesser Galwyndor, existing since before the time of the Great Purge. It is ruled by the royal House Elund from the stronghold seat of The Rorhold. Prior to the expansion of the Clavic Empire, Praul's capitol city was Amberdal.
People of Praul are referred to as being "Prauli".
Neighboring Andermark is a strong ally.
Praul does not consider any nation its rival.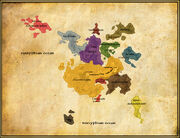 Provinces
Edit
Praul is made up of three provinces:
Major Settlements
Edit
Ad blocker interference detected!
Wikia is a free-to-use site that makes money from advertising. We have a modified experience for viewers using ad blockers

Wikia is not accessible if you've made further modifications. Remove the custom ad blocker rule(s) and the page will load as expected.