Below is a list of all the deities mentioned or found in the Everwind Series.
Non-Grellism Deities
Edit
| Deity | god/goddess of | culture | related/notes |
| --- | --- | --- | --- |
| Briva | goddess of unknown origin | unknown | discovered in Immortal City, Brivatek corp. named after her |
| Lightsire | god of Light and all things | Lightsprawl Order | |
| Rogysis | protector of the sea | unknown | somewhat of a new deity, more myth than deity |
| Tetusa | goddess of fertility, abundance, joy, contentment | Attawa | called "Bringer of Life" |
All 33 Deities found in Grellism
Edit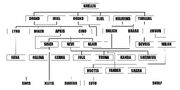 Out of hundreds of ancient deities, there are thirty-three from the first three generations (excluding Grellis) that are considered the primary ones. The ancient religion based on these deities is called Grellism.
Ad blocker interference detected!
Wikia is a free-to-use site that makes money from advertising. We have a modified experience for viewers using ad blockers

Wikia is not accessible if you've made further modifications. Remove the custom ad blocker rule(s) and the page will load as expected.