Gruenormark is one of the oldest nations in Lesser Galwyndor, having been around since before the time of the Great Purge. It is ruled by the House Jerinsen from the seat at Fairstone.
People of Gruenormark are referred to as being "Gruenor".
Andermark, Ildoria, Terismark, and Lothlan are allies.
Averia, Aeryl, and Scurn are all rivals of Gruenormark. Gruenormark's embargo on Scurn elicited animosity from Averia, and because of Averia's close relationship with Aeryl, Aeryl followed suit.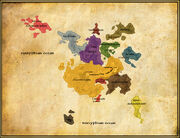 Provinces
Edit
Gruenormark is made up of six provinces:
Major Settlements
Edit
Gruenormark is rich in culture. They pride themselves on being skilled at all things equine, especially riding. In fact, if someone falls off a horse in Gruenormark, they must apologize to the horse for being an unworthy rider or else they suffer bad luck. The Gruenor army is said to have the best caval (cavalry) in the world.
Gruenor Military Ranks
Edit
Main article: Military Ranks
Gruenor Rank Insignias
Army Officer Shoulderboard Insignia
2nd Lieutenant
1st Lieutenant
Captain
Major
Colonel
Lt. Marshall
Marshall
Army Enlisted Insignia
Dragoon
Dragoon 1st Class
Corporal
Junior Sergeant
Sergeant
Senior Sergeant
Sergeant Major
Ad blocker interference detected!
Wikia is a free-to-use site that makes money from advertising. We have a modified experience for viewers using ad blockers

Wikia is not accessible if you've made further modifications. Remove the custom ad blocker rule(s) and the page will load as expected.