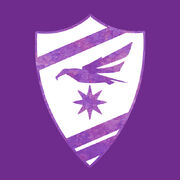 An espitris is a small to medium-sized bird of prey, somewhat falcon-like in appearance and slightly larger than a hawk. It is said to be the first bird of all, according to an ancient Creation Myth of the Befores.
Appearances
Edit
Other Emblems
Edit
The espitri is also a major component of the Everwind Times logo and the Elidel Espitri emblem.
Ad blocker interference detected!
Wikia is a free-to-use site that makes money from advertising. We have a modified experience for viewers using ad blockers

Wikia is not accessible if you've made further modifications. Remove the custom ad blocker rule(s) and the page will load as expected.